A rise in environmental consciousness is changing the way customers think. GEO Foundation's Jonathan Smith explains why sustainability should no longer be an ethical afterthought, but a fundamental part of your resort's brand.
Ten to 15 years ago, sustainability was something of a buzzword, but it's proven to be quite a complex set of issues that continue to have more and more importance. There are significant environmental, ethical and social challenges and pressures around the world which are sadly not declining.
The way we all live, run our businesses and play our golf is, increasingly, driven by sustainability. There's far more recognition that we depend on the environment and the resources and services the natural world gives us.
A consumer demand
In the last decade, these challenges have come closer to consumer demands and, in turn, business performance. Being greener is less something you'd like to do and more of an essential element if you want to thrive both now and in the future.
Research shows that more and more people want products and lifestyles that are greener and more sustainable, which they equate with being healthier.
That strength of feeling is moving from 'we hope that business will be greener' to 'we expect that business to be greener'. It's becoming a demand from consumers.
Golf and travel
Sustainability is very relevant to land and community-based businesses like golf, and not just thinking about meeting expectations, but exceeding them.
Where resorts and destinations are concerned, around 30% of the global tourism market is now owned by eco-tourism or sustainable tourism. It used to be that eco-tourism was relatively low-cost, low-impact, but now it's moving into the realm of sustainable travellers spending more and being higher-value consumers.
What this shows is that sustainability is fast becoming associated with quality and prestige. Consumers are willing to spend more on travel if it meets their expectations around sustainability. And that matters to your brand.
Benefits of being sustainable
If you integrate sustainability well across your business, from your operations to your marketing, then you can find these key benefits:
Efficiencies – unpicking what you consume and how you consume it, and how your staff are engaged in operations, can result in a multitude of cost savings.
Experience – the quality of the golf experience. Increasingly, resorts are integrating nature into the golfing landscape to improve the product experience. Also looking at multi-functionality in that rich natural environment such as walking, cycling, mountain biking. Studies show that people are appreciating natural environments more than ever, particularly in the last year during the pandemic.
Popularity – sustainability credentials are an attribute and added appeal to your marketing, communications and branding activities
Partnerships – a really exciting space for establishing mutually beneficial commercial and non-commercial partnerships with sustainability at the core
A telling factor is that big accounting firms are now talking about sustainability. They know it helps the bottom line. A recent report by Ernst and Young showed that sustainable businesses are more robust, more efficient, appeal to customers' changing values and have strong relationships with suppliers.
What practical steps can golf resorts take?
Sustainability is not just for big businesses. Small and medium-sized organisations can take steps too, and often it's about starting with the quick wins which then gain momentum. The more you put in, the more you get back.
Resorts which are naturalising the golf landscape is a good example. By allowing nature to re-emerge, it not only enhances the golfing landscape and experience, but can reduce the operating budget by tens of thousands of pounds. It saves staff time on mowing, water input, fertiliser, and chemical usage too.
At Quinta do Lago in Portugal, Mark Tupling and his team have been managing vegetation around the margins of a lake to create a more natural balance within the water; and as the lake and stream's health has improved, the species numbers and diversity has increased. This is just one success story as part of the resort's overall big green investment.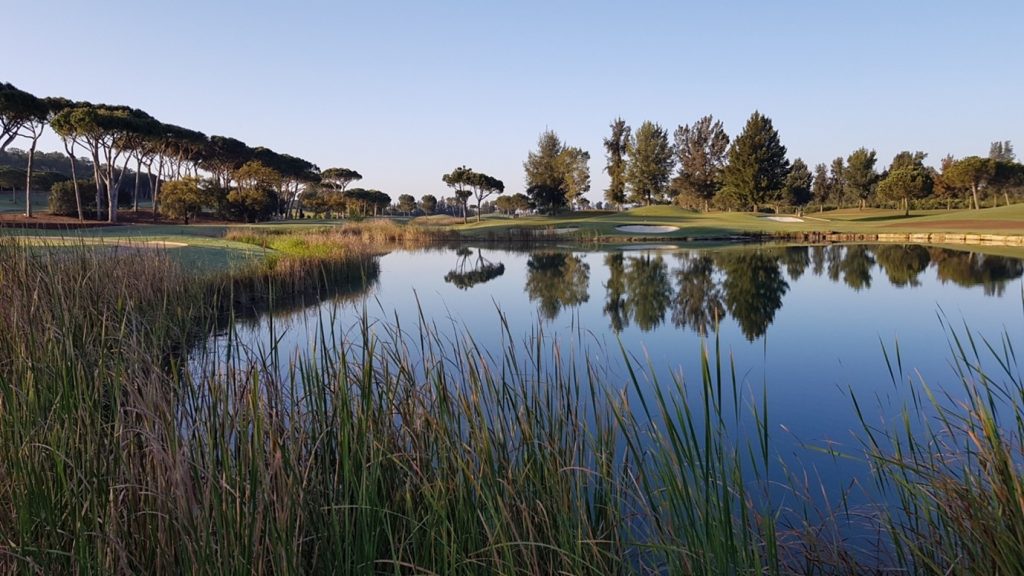 These cost savings can then be invested in long-term solutions such as irrigation technology, sensors, pumping systems and renewable energy. Water and energy are the two biggest areas where we are seeing resorts innovate and invest.
At GEO Certified® Dubai Creek Golf & Yacht Club, electric vehicle chargers were installed on-site so that members and guests can fuel their vehicles in a greener way while enjoying a round at the course.
Jumeirah Golf Estates is embracing sustainable golf too. An irrigation audit on its Fire Course resulted in a 14% reduction in water use in the summer months. This was achieved through realigning the turf corridor sprinklers and increasing native areas which require less maintenance.
Opening doors to different consumers
As we see resorts gain more confidence and develop an internal understanding of what they do well in terms of taking action and delivering environmental and social benefits, this enables them to reflect this in their brand, connect more confidently with their respective audiences, and open up new ones too.
One increasingly successful area is focusing on families. Families are inter-generational, and sustainability has an aspect of stewardship that's also inter-generational.
Environmental open days are a fantastic way for resorts to engage families.
Whether you showcase the wildlife and biodiversity or the resort's commitment to other issues such as waste reduction and clean energy, it represents an opportunity to connect with groups of people that may not have been on the resort's radar before.
If a resort can demonstrate environmental stewardship to its local community, and address issues they know are increasingly important to them, it's fantastic PR and opens up tremendous new opportunities for engagement.